TORTURE TEST:
SPECS:
Endlink Width: 18mm

Wrist Circumference: 16cm - 21cm

Individual Link Length: 1.05cm (3$ per piece)

(Extra links purchase from this listing)

Weight: 70g (Case with Module Installed)

Weight: 154g (Full Links with Case and Module Installed)

Weight: 84g (Bracelet with Full Links)

Weight: 22.4g (Rubber Band with Buckle)

Bracelet Material: 316L Stainless steel

Coating: IP Coated, Rated over 980HV on Vickers Hardness Test (Heavily Brushed)

Coating Colors: Only Silver and Black parts are super-hard coated. Gold and Rose Gold are not.
COMPATIBILITY:
SKXMOD Modding Kits for Casio AE1200/1300

Casio AE-1200/1300 Series
MEASUREMENT: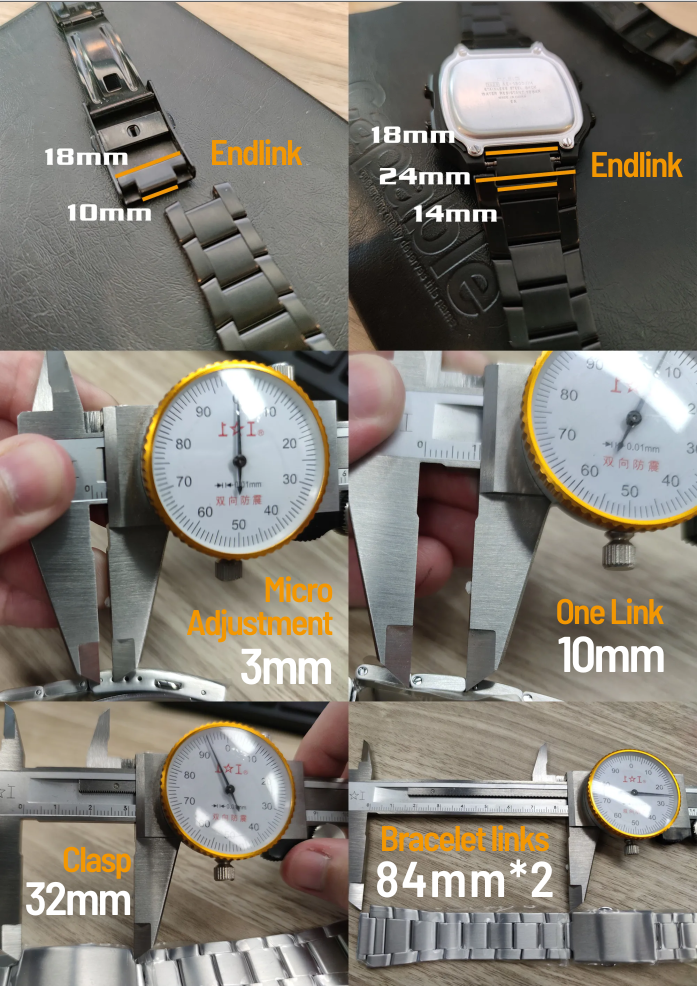 On our modding kit for AE1200 and 1300, case's lug to lug length is 45mm.
Bands on each side of the bracelet measure the length of 84mm. And the clasp cover itself is 32mm.
Within 10 removable links from both sides. There are 2 have to stay connected to the clasp.
And each micro adjustment being 3mm.
One links can always be purchased if requested.
Attentions:
For full kit/set: Case and bracelet.
Please purchase them separately through the menu.
(There might be slight color difference among different accessory and case under same colorway.)
(Due to many variating factor: manufacturing method, material, design and more.)
(Also factor in that we make our own spray painting. Please take into consideration.)
(The term of "Gold" and "Silver" merely represents the colorway.)
(Not meaning coated or made out of true precious metal.)
(Necessary tools and parts are included in the packaging)
This product is not manufactured by Apple, Seiko, Casio or related brands.
It is made by SKXMOD.
A third-party product to accessorize aforementioned brands and more.