Can you ship to my country?
It depends on the specific situation at the time being.
For example, orders from Russia now will be carrying out by our shipping agent.
Making it in to a two-part journey. One domestically, through the land port in Хоргос (село).
Another part is handled by СДЭК, usually sent to Moscow hub first.
Due to inevitable forces such as on-going war now with Russia Federation and near by countries and regions
Specifically Belarus and Ukraine, the general shipping time could be delayed beyond than expectation.
And therefore more fees will be charged on shipping due to the difficulties might occurred.
Such terms can also be applied other inevitable forces, including but not limited:
Natural disasters, fire, flood, explosion, atmospheric disturbance, lightning, heavy rain, volcanic eruption, hurricane, tornado, earthquake, landslide or epidemic.
Social disturbance, war, riot, civil war, blockade, insurrection, act of terrorism or other activities alike.
Industrial disturbance, strike, lockout or other activities alike.
Governmental acts. Including decree, law, statute, ordinance, rule, regulation or order. Issued by any governmental agency, any entity, or any court having jurisdiction. That could directly or indirectly affecting the performance of shipping.
Therefore, we are not responsible for parcel lost and consequential compensation in aforementioned situation.
Hope you can understand.
When will my order ship?
All orders are processed and shipped within 1 to 3 business days.
But there are special occasions that depends on inventory and specific time.
Meaning, when there's a product shortage or holiday/weekend break we will only ship afterwards.
We usually have large amount of orders stacking up during our weekend break.
After coming back to work on Monday, it would take us a day or two to fully process them.
That is, creating shipping label, packing and shipping. Also orders that coming in daily after that.
However, we process orders chronologically with Express ones prioritized. Please rest assured.
Once an order is executed, a notification E-mail will send to you automatically. (Could be blocked by spam filter, please notice)
For Express orders placed before off-duty hours, we will do our best to send them to our shipping agent.
They will usually receive them overnight. Because we are in the same city.
Then those parcels will be distributed accordingly to local courier warehouses at that day late night.
Eventually have the tracking number generated in the afternoon or supper time next day.
However, do remember to notify us if you are planning to move or not available to receive in near future.
Same situation can be applied to major holidays. Where your receiving location can be closed for days.
Therefore we are not responsible for parcel's retrieval and consequential compensation. Because of your non-disclosure.
Hence, we do not accept any urgent order due to the uncertainty of shipping.
What's the shipping fee?
When an order's item value is under 50$, fees for Standard Shipping is 15$. And for Express Shipping is 40$.
We provide free Standard Shipping when the order's item value above or at 50$. Standard Shipping will be carried out by 4PX.
When the order's item value is above or at 499$, we provide free Express Shipping. Shipping courier includes but not limited: DHL, FedEx, UPS and USPS.
Above all of them, we also offer Express+ Shipping. This option is just for countries with very difficult customs clearance level. Like India. Does not improve or guarantee the speed of shipping.
However, said fees can only cover certain situation. If the parcel is overweight or shipping to remote areas.
And eventually, exceeding our cost per order. Much like the 40$ pricing we set for Express shipping.
We will need customers to add in according fees to balance our cost.
Considering we ship from China. Remote regions Could be anywhere from land or island.
And here is a remote location list from FedEx for your reference.
https://www.fedex.com/en-us/shipping/rate-changes/additional-shipping-fees.html
https://www.fedex.com/en-sg/shipping/surcharges/other-surcharges.html
If you live in certain places or having substantial order. Please contact our customer sevice first before purchasing.
P.S.1 We use shipping agent to carry out our Express parcels. They will let us know what's going on all over the world.
Which country is having what kind of restrictions now. And what kind of delivery is best suited for each and every order.
P.S.2 For Standard Shipping, VAT on shipping is partially pre-paid but only certain EU countries.
As such: Austria, Poland, Germany, France, Spain and Italy.
P.S.3 Our pricing does not include tax, import duties or costs as such for entering your country.
When will my order arrive?
Under normal circumstances. It depends on your very own choice upon checkout. Also the destination country/region.
For Standard Shipping, it usually takes 2 to 3 working weeks to arrive. Even more so with the influence of pandemic.
But that is only our extended estimation. You can ask our customer service for past record on delivered orders as reference.
We do support shipping upgrade. You can always purchase the Express Shipping upon checkout.
In addition to that, many country have their own rules for unsuccessful delivery or temporary storage of parcels.
Please keep close attention to the status of your parcel. And contact your local post service when need be.
Otherwise we are not responsible for your inaction upon delivery notification, parcel pick-up or timely retrieval.
(If your parcel seem to be in stuck of status update, try using the international tracking number.)
(Which can be transformed and acquired at parcelsapp.com from our provided one with 4PX.)
More to European customers, it would be best if you can provide IOSS or similar tax number, as the checkout page suggested.
For the parcel can move faster and with less re-routing in the journey. Therefore, saving you time and possibly extra fees.
Otherwise it has to go through our country's own customs first, then Singapore hub to re-route.
And eventually heading towards the destination country. But not flying directly as you may imagined.
Which will take some extra time in the examination and transportation process for sure.
Miscellaneous
Signature service cost extra in both standard and express shipping.
If it wasn't requested by the customer we would keep the option off by default.
Same situation can be applied to insurance service. And these services are limited in few countries too.
(For example, signature service is available in UK. But only for Royal Mail.)
As of the moment, return service only available in certain list of countries. That being,
USA, UK, Canada, Austria, Poland, Germany, France, Spain, Brazil, Italy, Australia, New Zealand, Qatar, Kuwait, UAE, Saudi Arabia and Japan.
And it doesn't mean you can return it after receiving. Otherwise return service would past its valid period.
You have to intercept and reject the parcel somewhere after local post taking over the parcel from customs.
And most importantly, BEFORE, the actual delivery. Then they will send it back to 4PX's oversea warehouse.
Another similar situation would be an unsuccessful delivery that leads to parcel returned to local post.
The processing and re-delivery of a return parcel could take up to a month and more. Please notice.
For Dutch Customers
Often time you may find your parcel stuck for days. It could very well be held by customs.
Where you need to pay for its fees entering EU regions. Please use below link to check.
(They will require international tracking number that start and end with two letters.)
(Please use use our tracking number on parcelsapp.com to acquire that.)
(There is 7 days time limit as well. Please hurry or it will be disposed.)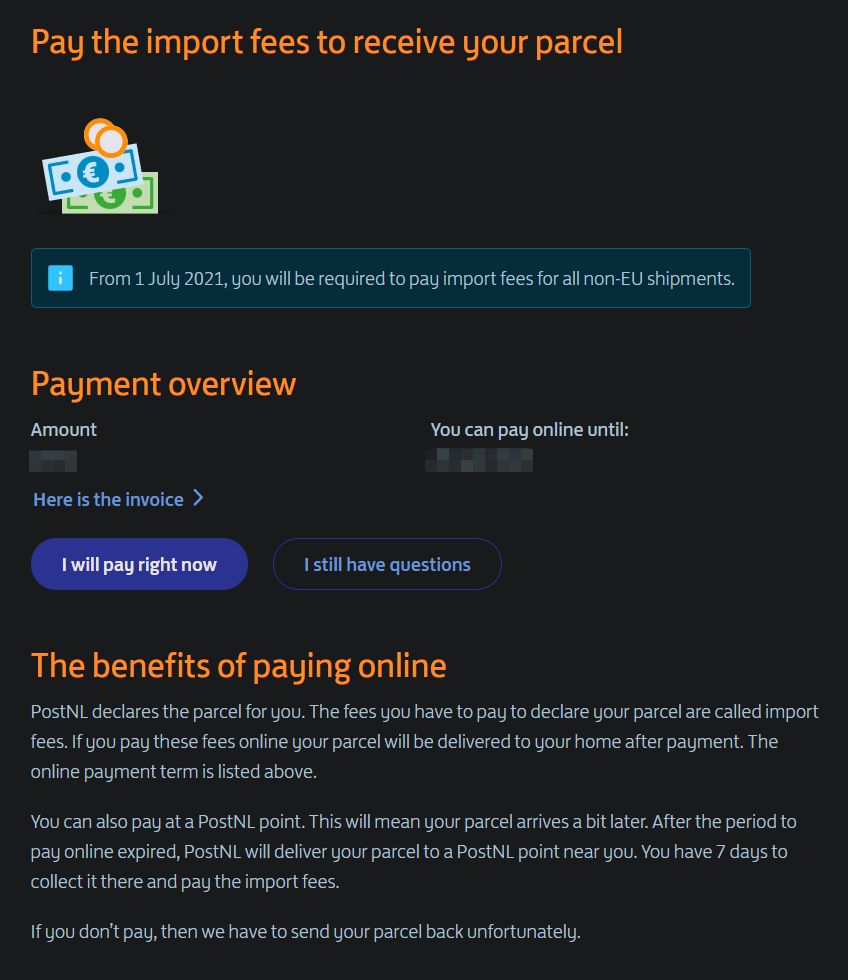 For Hungarian Customers
From a very nice customer who shall not be named.
He kindly provided a tutorial of handling HU customs.
And here we quote:
Today my package arrived successfully. I would like to give you some info for you to forward some future Hungarian customers:
- When you want to issue the certificate for the Hungarian Customs Authority, you should visit the Customs page first, where you will be redirected to the Postal Service website to authorize them to customs clearance.
- After that, when your package arrives in Hungary, you will get an e-mail message from the Postal Service, to issue the Customs paper on the Hungarian Customs Authority website (it is advisable to prepare it before and save it, but you can issue it only when your package reached the country)
- When it's done, and your package has been cleared, you should pay the Hungarian VAT, which is 27%. If you pay with a credit card, the process needs a couple of days. During this period, the Authority's website will not refresh, so it will ask you to pay constantly (however you should get a receipt to your personal Governmental Message board called "
tarhely.gov.hu
", so if you get one, you should not worry).
- When everything is cleared, the postal service will deliver the product to you.