INSTALLATION TUTORIAL:
SPECS:
Case and Button Material: CNC milled CuSn8 Bronze (Buttons pre-installed)

Glass: Sapphire (Pre-installed)

Case Diameter: 42.2mm (Without Buttons)

Weight: 97.8g (Rubber Band, Buckle and Module Installed)

Weight: 75.4g (Case with Module Installed)

Weight: 22.4g (Rubber Band with Buckle)

Thickness: 13mm (Before Assembly)


Wrist Circumference(Rubber): 14cm - 21cm

Lug to Lug: 45mm

Lug Width: 18mm
COMPATIBILITY:
Casio AE-1200/1300 Series

Casio DW-291H Series
CONTAINING:
Solid bronze casing (Wrapped in foam pouch)

FKM based rubber band (Optional, depends on order)

Screwdriver (Flat-head-1.5MM*1/2.0MM*1, Phillip-1.5MM*1)

Caseback screws (Pre-installed on cases, do not remove with excessive force)

Springbars and screw removing pin

Cushion pad (For assembly upon)

FKM based rubber gaskets
MEASUREMENT: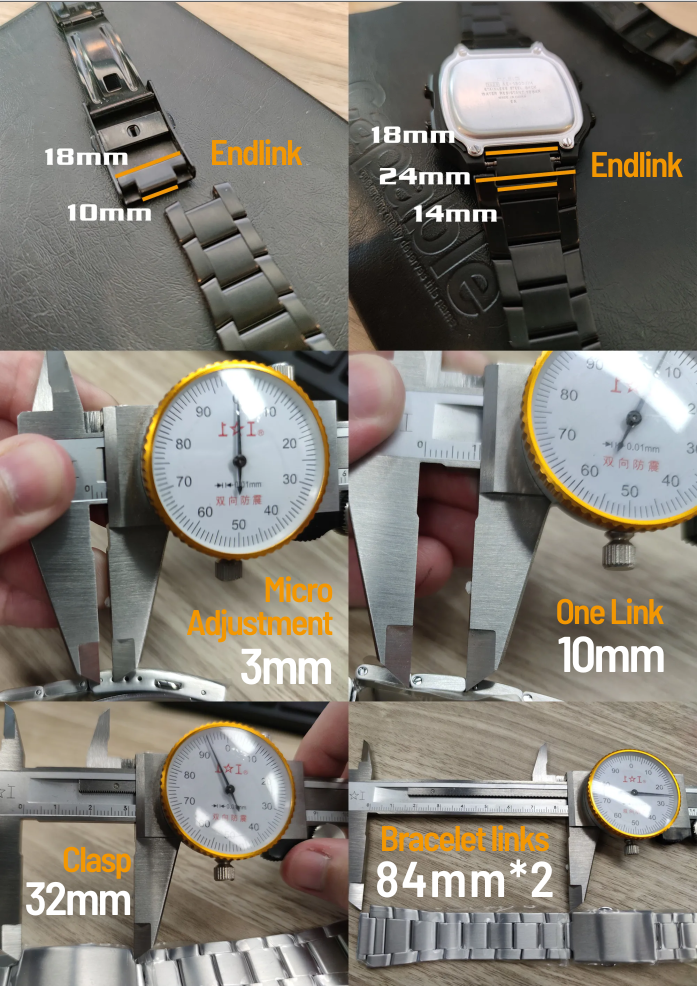 [FKM stands for Fluoroelastomer, which is a class of man-made rubber of great density but soft in touch, made to stand harsh conditions, such as high temperature, chemicals etc. For example, this type of rubber is often used in aerospace and nautical industries, which speaks a lot about its quality.]
Attentions:
This product is only compatible for Casio AE-1200/1300 & DW-291H Series.
Hence, please check for the make and model thoroughly before purchasing.
The lettering can be engraved then painted with many color or lume.
Or none at all, being a completely sterile case.
Engraving see the below as reference.


This a case only listing, does not include caseback and module.
Buttons are pre-installed by default, if you want to customize them as well.
Please contact us first and see if it's possible. (Buttons are bronze by default)
Presented module is not included. Please use original caseback and module on our modding kit.
Please avoid using chemical solution to accelerate patina forming and removing.
For it might deform or corrode the gaskets within buttons under accidental or improper procedures.
Or further more, ruining the bronze material permanently.
And in such sitaution, we are not responsible for the product's after-sales service.
Customization such as painting on lettering, will take longer time than expected.
Depends on the difficulty, it will range from 1 to 2 working weeks till finishing.
Shipping label will be created first. Meanwhile, please be patient with the process.
Lastly, except for quality issues, customized orders are not allowed to refund or return.
Unless stated otherwise, pin buckle color remian to be rose gold color.
(Four caseback screws are pre-installed to the case)
(Please remove them first before attaching caseback)
(Necessary tools and parts are included in the packaging)
This product is not manufactured by Apple, Seiko, Casio or related brands.
It is made by SKXMOD.
A third-party product to accessorize aforementioned brands and more.