SPECS:
Wrist Circumference: 16cm to 22cm

Individual Link Length: 0.65cm (3$ per piece)

(Extra links purchase from this listing)

Case Diameter: 44mm (Without Crown)

Lug to Lug: 57.4mm (With Endlinks)

Lug to Lug: 53mm (Without Endlinks)

Thickness: 11.2mm (Before Assembly)

Lug Width: 27mm

Brushed and Polished Surface Finishing
COMPATIBILITY
Casio GA-2100/GA-2110 Series

Casio GA-B2100 Series
Our case does not always fit all model from above mentioned two series.
Because on certain limited/special/collaboration model, Casio might do small modification.
Therefore, the general dimension of the inner carbon core is changed. Cannot fit into our case anymore.
GAE-2100 series is sure won't fit. Please buy with cautions if you have such model.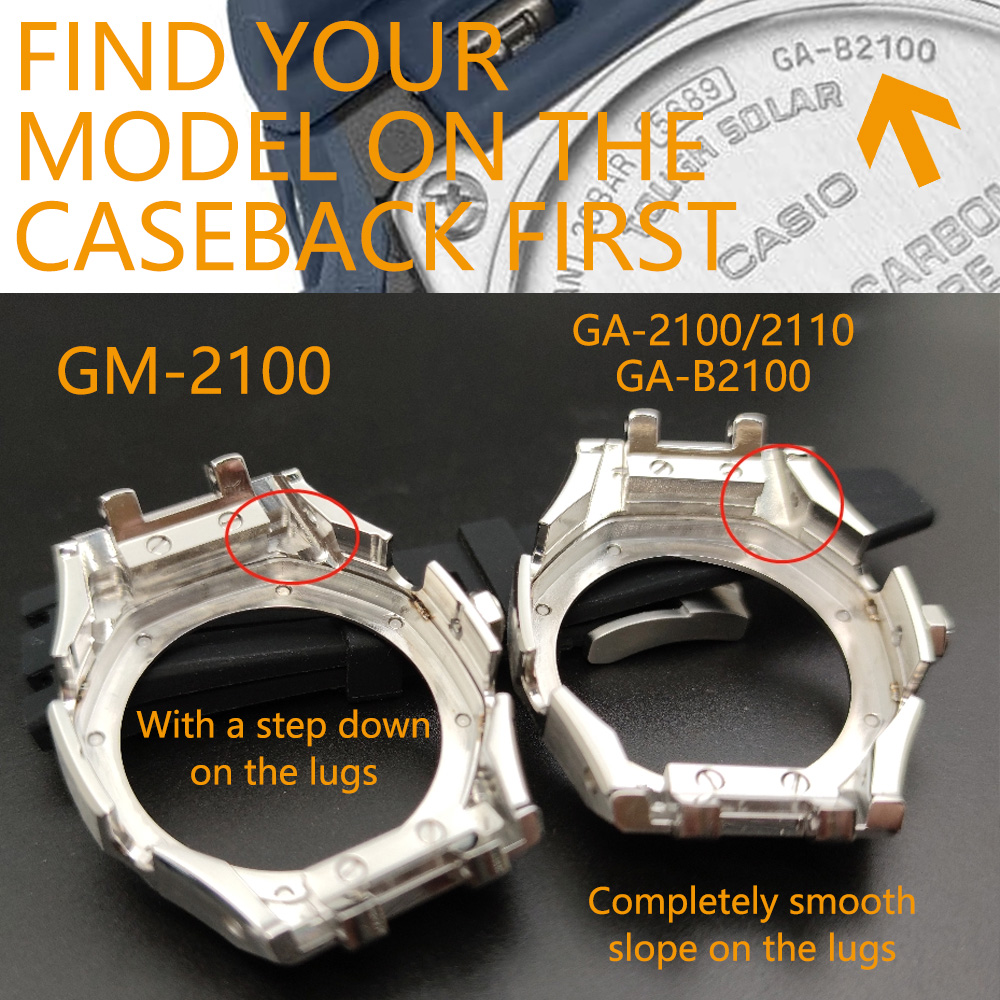 INCLUDING:
316L Stainless Steel Case and Bracelet

Securing Bolts

Case Screws

Screwdrivers

Tweezers
Attentions:
This product only provides modding kit for GA-2100/2110 and GA-B2100 Series.
Although our modding kits have similar dimensions, the internal structures are entirely different.
Hence, please check for the make and model thoroughly before purchasing.
The timepiece itself presented in the pictures is not included as well.
Endlinks are secured in place in the factory and with industrial glue plus welding.
To make it as seamless as possible. Please do not try to disassemble or adjust them.
Otherwise the process is irrversible. It could lead to broken screw or crooked endlink.
And we are NOT responsible for its compensation of all sorts. Please notice.
Also, this listing only contains case and bracelet.
There is no extra layer of glass or lens installed within the case bezel.
For extra set(s) of rubber band, please purchase them through the menu.
Or the recommendation bar down below. Also at the cart and checking out.
Unless stated otherwise, bracelet and caseback color follows mid-case's color.
(There might be slight color difference among different accessory and case under same colorway.)
(Due to many variating factor: manufacturing method, material, design and more.)
(Also factor in that we make our own spray painting. Please take into consideration.)
(The term of "Gold" and "Silver" merely represents the colorway.)
(Not meaning coated or made out of true precious metal.)
(Necessary tools and parts are included in the packaging)
This product is not manufactured by Apple, Seiko, Casio or related brands.
It is made by SKXMOD.
A third-party product to accessorize aforementioned brands and more.